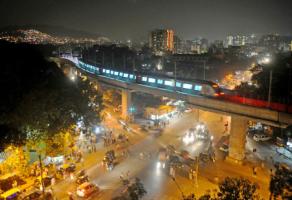 With the Mumbai Metro now connecting Versova, Andheri and Ghatkopar, a dream seems to have materialised for many. Previously, those working in Andheri had to hop on to a local train that took them to Dadar. With the phase 1 of the metro lines opening up, it cuts on the tiresome and unwarranted long travels.This is going to affect the real estate market of Andheri. Andheri East and West are catching up in the list of preferred locations for prospective home buyers in Mumbai. Both areas are also increasingly gaining attention from the developers as is indicated by the number of new projects coming up in these areas.
However, even before Metro could actually link up these areas, prices in both the eastern and western segments of Andheri soared. As per the Recent Survey; over the last three year, prices have gone up by Rs 5500 per sq ft in Andheri West. The values today stand at Rs 20,500 per sq ft in Apr-July 2014 quarter.
Primarily a residential area, Andheri has garnered the reputation of being an up market belt with areas like Versova, Lokhandwala, Oshiwara, Amboli etc. As for Andheri East, the hike is almost of Rs 3000 per sq ft with current values standing at Rs 15,500 per sq ft.
Other areas along the metro line like DN Nagar, Azad Nagar, Andheri, Western Express Highway, Chakala and Ghatkopar have also gained significantly owing to the significant cut in travel time that has dropped from almost 1.5 hours to 20 minutes.
Prices
A 2BHK unit in Andheri West would range between Rs 55 lakh to Rs 10 crore or even higher depending upon the quality of the project and amenities provided by the developer in addition to the exact location. The sizes vary although most have living space within 1500 sq ft. A 2BHK unit at Andheri East would cost you anywhere between Rs 90 lakh to Rs 5 crore for areas varying between 800-2250 sq ft.
Why Andheri
Besides the Metro that would cut through most vehicular traffic along the corridor, Andheri East and West have more advantages too. The eastern part is overtly a business and commercial district. It is a commercial area and has so far succeeded in replacing Nariman Point and the like to a large extent. Its proximity to the international airport as well as the national highway has helped the area's growth. Professionals are always on the lookout for an accommodation just around the corner.
Additionally, located off the Andheri-Kurla and Andheri-Ghatkopar link road, it has good east-west connectivity. It is strategically positioned close to the Western Express highway, thereby paving way for an easy access to Lower Parel, BKC and the eastern suburbs of Vikhroli, Mulund and Powai.
Owing to these and connectivity through rail and multi-connect buses that ply the area, the capital values are indicative of its viability as a liveable area.
For the families, some of the best educational institutes, five star hotels, libraries, parks, banks, hospitals and recreational avenues are easily accessible. A local realtor says, "Thanks to commercial offices, international and national corporate houses based in Andheri, the locality works as a preferred housing destination with all daily requirements easily available. The locality is self sufficient. With the metro being operational, prices have also seen an upward trend. The only drawback may be that it is bit too commercial and buyers and tenants opt for Andheri West."
Talk about Andheri West, Local Realtor says, "Although preferred as a residential locality, Andheri West couldn't escape the mushrooming of commerce owing to the growth of the area as a residential space. Some of the best schools, sports complexes, malls and offices have sprung up here which on one hand make the area self-contained."
If you intend to go in for a commercially rich local with the benefit of the metro, Andheri opens up as a fine investment avenue!