Process of Property Registration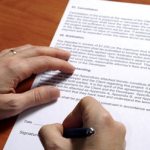 The registration of a property involves adequate stamping and paying the registration charges for a sales deed and having it legally recorded at the sub-registrar's office.

If the property is purchased from a developer, registering the property amounts of an act of legal conveyance. If it is the second or third transaction for the property, it could involve a duly stamped and registered transfer deed. The process is now computerized in most states, and involves the issuing of a token number for registering the document on a specified date. The process can take anything from seven to fifteen days.

The documentation will vary depending on whether the property is being transferred from the developer or if it is a secondary sale. If the property is already under lien, then the mortgaging agency will have its own format.

There are various costs involved, and these vary from state to state. Currently in Mumbai, the costs can amount to 5% of the total registered value of the property, but this depends on exact location. According to states, it can vary from 3-8%, again depending on exact location and registrar jurisdiction. It is very advisable to anticipate and factor the cost of legal registration of the purchased property into one's overall budget. The exact figure involved can be worked out with the developer or real estate agent and finances accordingly planned.

If a property that is under mortgage is to be registered, the mortgaging bank will require an NOC from the housing society in a prescribed format. It would then initiate the loan disbursement, depending on the repayment eligibility of the purchaser. The document will be duly registered on bank's confirmation of disbursement to the seller after obtaining all the originals from the sub-registrar's office. The housing society will need to receive an intimation, without which the existing owner cannot create any third-party lien or exercise any right to further sell or grant a leave and license on the property.